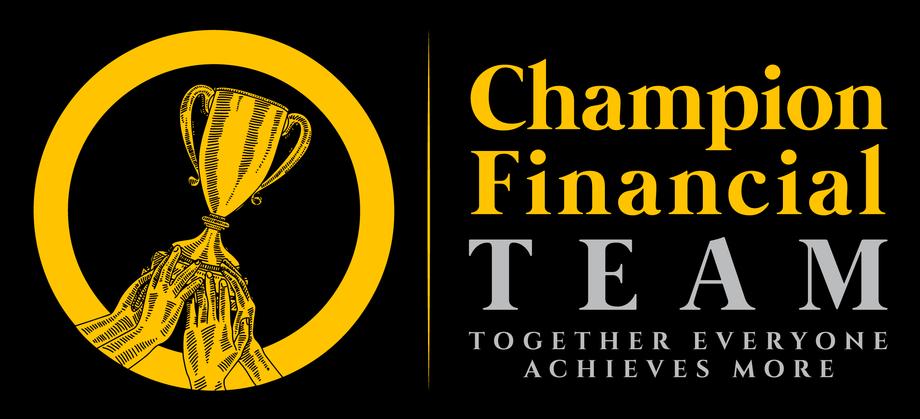 What are common traits of a Champion?
Commitment. Focus. Determination.
Champions start with a vision and a mission. It is not enough to have a dream. You must be willing to put in the effort, time, energy and resources routinely and consistently. You must be pro-active about monitoring your progress and making necessary adjustments along the way.
This is how an advisor on the Champion Financial TEAM approaches financial planning.
What sets the average person apart from a Champion is dedication. It's having the confidence to dream big and the drive to turn dreams into a reality. Along the way there will be challenges and there will be disappointments, perhaps even failures. We strive to help clients understand potential obstacles so that they can be better prepared to combat them and reach the finish line.
It is less likely that a Champion can achieve success on their own. Being held accountable and holding others accountable is a key component of consistency and success. Once a goal has been reached, it's important that you continue to pursue even bigger goals and milestones. It's almost impossible to do this without surrounding yourself with a TEAM of individuals that can provide support and encouragement.
It would be our pleasure and honor to be your Champion Financial TEAM.
Because Together Everyone Achieves More.
We created this Web site to help you gain a better understanding of the financial concepts behind insurance, investing, retirement, estate planning, and wealth preservation. Most importantly, we hope you see the value of working with skilled professionals to pursue your financial goals. We're here to help educate you about the basic concepts of financial planning, to help you learn more about who we are, and to give you fast, easy access to market performance and data.
We hope you take advantage of this resource and visit us often. Be sure to add our site to your list of "favorites" in your Internet browser. We frequently update our information, and we wouldn't want you to miss any developments in the area of personal finance.